Printing plate manufacturer for letterpress
with Long-life quality
In the tradition of a leading European prepress house, we at Carl Ostermann Erben know about the special brilliance that letterpress reproduces colours. To meet the high demands of our customers in label printing, we have qualified plate material for rotary and semi-rotary letterpress.
These are polymer plates from leading manufacturers, which we produce on state-of-the-art processing equipment with our own acquired know-how. This gives our plates a particularly high print run stability - we call it Long-life quality. For plate processing, we rely on the proven technologies of digital imaging.
Plan your printing plates for letterpress printing with us
Our teams in Bremen and Stuttgart are specialised in designing letterpress motifs to meet material and print-specific requirements. For this, they use foil- and steel-based letterpress plates and are very familiar with print-specific challenges regarding high resolution, crack resistance, good ink transfer and the avoidance of chatter marks. We also have the right letterpress plate for varnishing.
Letterpress forms tailored to your application
Labels are often small works of art whose realisation places high demands on the plate material. Ink transfer and hardness of the raw plates play an important role. However, our know-how does not only concern the properties of the plate material, but also their processing. For letterpress plates, we have developed a special processing method that extends the life of the plate by about 50 per cent. Good reasons to contact us, especially since our plates can also be relied upon for repeat orders.
We produce coating plates using conventional film exposure. They are characterised by low hardness and high ink transfer and a surface finish with low picking for coated label papers.
Need support with data preparation for letterpress printing?
Our team ensures that perfect print quality is guaranteed and helps with data preparation for letterpress printing.
We are also happy to support you
in all other areas of prepress –
we are your …
Reproducible printing forms
ISO certified,
consistent quality
Efficient workflows
Shortest delivery times
Use of the latest technologies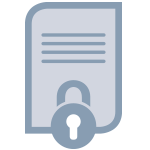 Data and process security